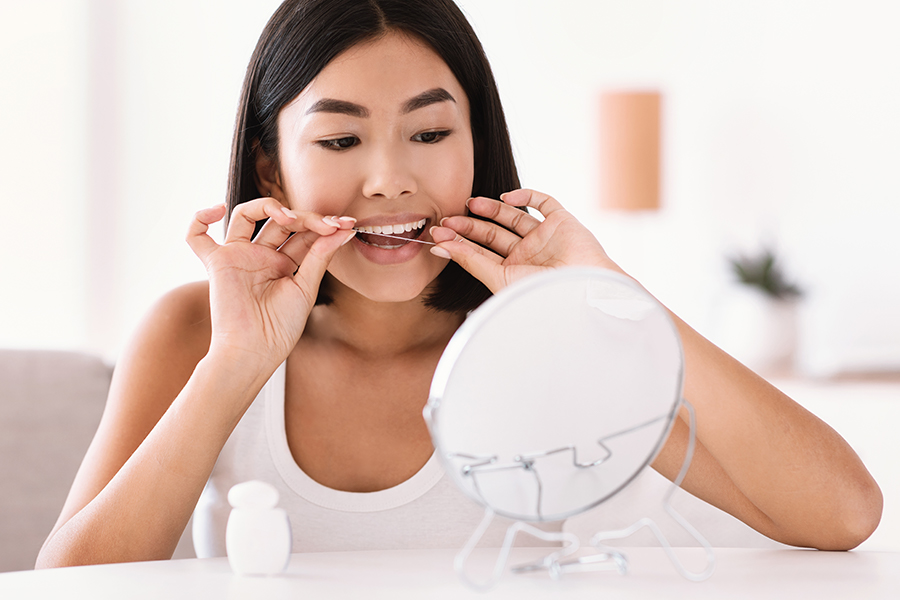 Flossing Importance – Why is it?
Flossing and brushing constitute the basis of healthy oral hygiene. While brushing helps in removing plaque that hardens to form tartar, causing tooth decay and gum diseases, flossing is equally important since it reaches those places that toothbrushes cannot.
If you skip flossing, you skip cleaning around 1/3rd of the total area of your mouth. This can potentially leave out the majority of plaque. This can lead to much more than just bleeding or swollen gums.
If you do not remove plaque within a day or two, it starts to build itself into tartar, commonly known as calculus. Flossing once every day will make sure that plaque is removed completely from your gums.
Lets take a look at flossing importance technique.
Flossing Importance – Technique

It is important to know the right method of flossing. The wrong technique may injure the gums or fail to remove plaque entirely. Employ the following flossing technique and get the maximum benefits –
The floss should be of approximately eighteen inches in length, typically an arm's length.
Twine most of your floss around the middle or index fingers. Keep a gap of 2 inches in between to ease the flossing.
Gently glide the floss in between two teeth and reach your gum line. Do not slide with force as you may bruise your gum.
Use the clean portions of your floss while you go from one tooth to another.
Accumulate the plaque on your tooth tip and wipe it two to 3 times in order to remove the accumulated plaque.
While removing the floss, apply the same back and forth technique to remove the floor away from your teeth.
Keep repeating this flossing technique for the rest of the teeth. In case the floss wears out, take a fresh portion of the floss, and repeat the process.
Once you have completed flossing, finish the task by brushing your teeth properly.
Even if you know how to floss, you might feel intimidated to do it daily, because initially flossing may be a painful experience. The following flossing tips will ease out your frustration for sure –
Do not snap your floss – If you are flossing for the first time, you might apply excessive force and end up injuring your gums.
Do not hurry while flossing – Most people hurry through flossing and as a result, they over-floss that leads to gum recession. Floss consistently and steadily, instead of wanting to finish it fast.
Use other alternatives, instead of string floss – This is one of the most honest flossing tips. Most people do not like using string floss as they end up with injuries and cuts in their gums. You can use many good alternatives, such as floss picks or water flossers.
Flossing Importance – Conclusion

If you are a beginner at flossing, you might end up with slight bruises in your gum line if you snap too hard. You should not give up on the habit on this note. If you are flossing after a long time, your gums may be soft and tender and hence more prone to bleeding. With regular flossing, your bleeding gums will improve at no time.
Karen Dental in Mississauga
Flossing Importance and prevention is key in oral health. Schedule your dental check-up with us at Karen Dental, your dentist in Mississauga.