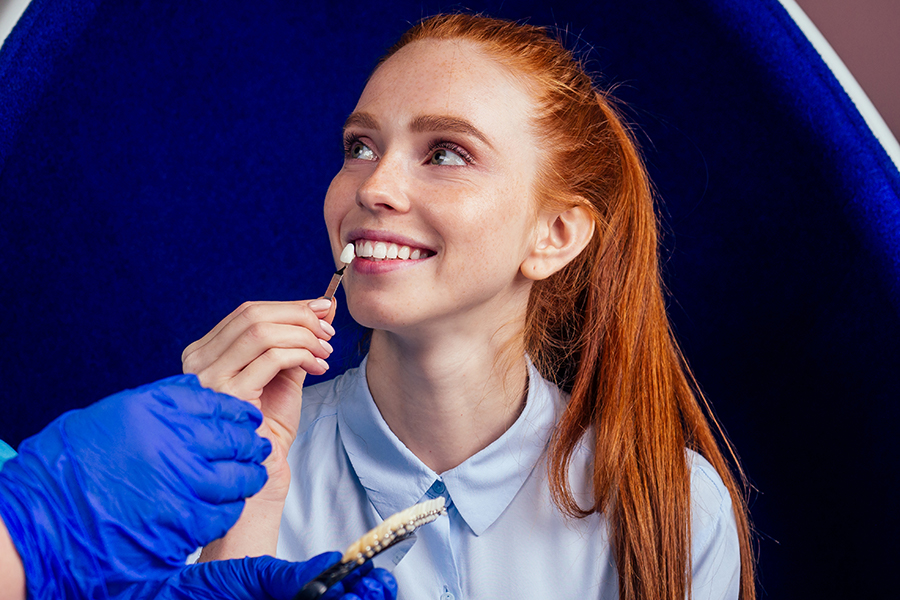 A Dental Crown Can Restore Your Tooth
Do you have a damaged or infected tooth? A dental crown can restore your tooth. In this post, we take a closer look at what dental crows are, when you may need one, and the different types they come in. Let's start with the essentials.
What Are Dental Crowns?

A dental crown is a tooth-shaped prosthetic that your dentist can cement on a damaged tooth. Dental crowns can be customized to your needs so that they cover the entire surface of the damaged tooth.
Your dentist may also recommend a dental crown after a root canal. In some cases, a dental crown can also help provide anchoring for a dental bridge.
More than restoring the appearance of the tooth, it can restore its function and strength. Once the dental crown has been put in place, the restored tooth will look like the teeth around it.
A dental crown is different from a dental veneer. While it also serves a cosmetic function, a dental crown is larger than a veneer, which is typically used to fix small chips or cracks in a tooth.
Types of Dental Crowns
Dental crowns are made from different materials, all of them tough enough to last wear and tear. The most common materials used for dental crowns include:
Ceramic – Ceramic crowns look like natural teeth and are highly durable.
Porcelain fused to metal – This type of dental crown seals strongly to its metal support, making it a long-lasting choice.
Gold alloys – Fancy a golden tooth? Crowns made of gold alloys stand out and adhere strongly to the tooth. They are resistant to fracture and do not wear away the tooth.
Other metal alloys – Strong and resistant to corrosion, dental crowns made from other alloys can be placed on mildly damaged teeth, without requiring too much tooth removal.
How Are Dental Crowns Put into Place?

To get a dental crown, you will typically need to visit your dentist twice.
On your first visit, your dentist will reduce the damaged tooth in size, removing as much decayed tooth as necessary.
Afterwards, your dentist will make an impression of the crown. This impression will be used to make a custom dental crown that fits your tooth perfectly.
Once the dental crown is ready, your dentist will call you in for a second visit. He or she will remove the temporary crown and cement the final one over the tooth.
How to Look After a Dental Crown
A dental crown can last for many years, even a lifetime if you look after it well. Dental crowns are not very demanding in terms of care, which makes them convenient in the long run.
Brushing and flossing your teeth daily helps to maintain both your teeth and the dental crown healthy. This is because the crown depends on the tooth that supports it. If that becomes damaged, the crown may need to be refixed.
With good oral hygiene, your dental crown will blend in nicely with the rest of your teeth.
Depending on the specific material your dental crown is made from, your dentist may have additional tips on how to maintain it. Follow them and go for regular checkups and dental cleanings to prolong the life of your crown and keep all your teeth healthy.
The Wrap Up
In the end, dental crowns are a convenient way to fix damaged teeth that don't need to come out. They can be customized to your needs and are easy to get used to. For the best results, make sure to discuss all your options with your dentist.
Schedule your dental examination at Karen Dental, in Mississauga.